Adonis Village
Part 1 - Meet Mr Jones
By Ken Laben (Illustrated by Priapus of Milet)
Email:
Ken Laben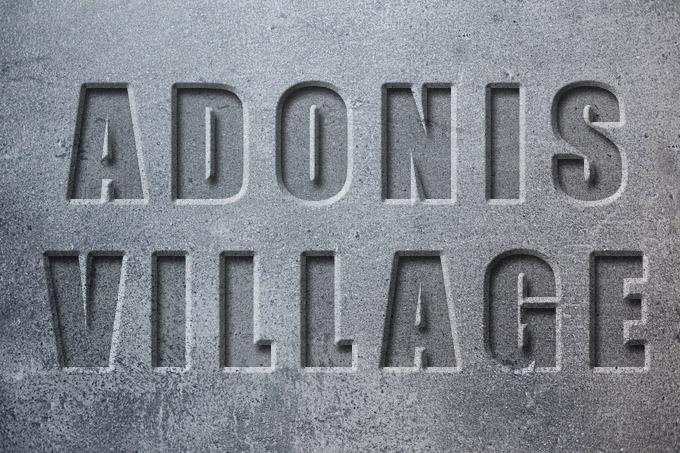 Written by Ken Laben
Credit and thanks to Caesarwv
Chapter 1 – Meet Mr Jones
Gavin gritted his teeth and lifted up. The 200 kg weighted bar strained his shoulders and his hard muscles struggled against the heavy weights. His thick legs were burning and shaking as he squatted low to the gym floor and lifted.
"Yeah, Gavin you can do it!"shouted a big muscled bodybuilder who spotted him at the squat station,Gavin shouted as he managed to lift his final rep.
"Yeah, you're the man. I knew you could do it!", shouted the bodybuilder as he praised his squat lift. Gavin dropped the bar on to the rack with an almighty thud. He picked up his towel and mopped the sweat of his face.
"Thanks Johnny," said Gavin. Johnny had been pushing Gavin to do heavier weights. The gym trainer was good at his job and Gavin knew it, even though Gavin himself was no slouch.
He had spent years of dedication at the gym. Although not big like a professional bodybuilder, Gavin had an muscular athletic build that was so shredded it would have made any pro bodybuilder jealous.
The 25 year old 6ft 1" welshman had a naturally smooth hard body with big pecs and well defined abs. He was also amazingly handsome with dark black hair, defining jawline and chiseled features. All this combined into one perfect package made him an ideal fitness model which he was. The welshman had recently moved to the USA to further pursue his career as a fitness model. Back home his career had taken off with him winning athletic body building awards and he had a successful online presence.
"Come on Gavin, Let's do another set." Said Johnny.
"I would, but need to head back, it gonna take me a while to head home. I wish I could find some place closer." Gavin replied. Currently he was staying at a cheap apartment outside of the city on a short lease. He would have preferred to live in the city but it was so expensive.
While he had been looking for a more permanent place to live, he had also been training at a gym in town. It was here, he first met Johnny, who due to their similar lifestyles and ambitions, hit it off from the start of their first meeting and quickly became friends.
Compared to Gavin, Johnny was a pure beefcake of solid muscle, an image of what most people thought a bodybuilder should look like. An alpha man of masculinity. Gavin also had noted that even though he was a trainer he showed little respect to anyone who the bodybuilder considered out of shape and also was a notorious womanizer and flirt.
Johnny also looked down at anyone who he didn't consider his equal as a man, especially gay men. Gavin was 100 percent straight but was always respectful of other people. Despite these flaws Johnny did know how to gain muscle and be the best at it. And he considered Gavin one of his few equals.
When Gavin mention he was looking for a place to live to Johnny. Johnny pulled out a pen and paper, and wrote some details down. Gavin looked at the paper given to him. Adonis Village, Mr Jones apartment 40.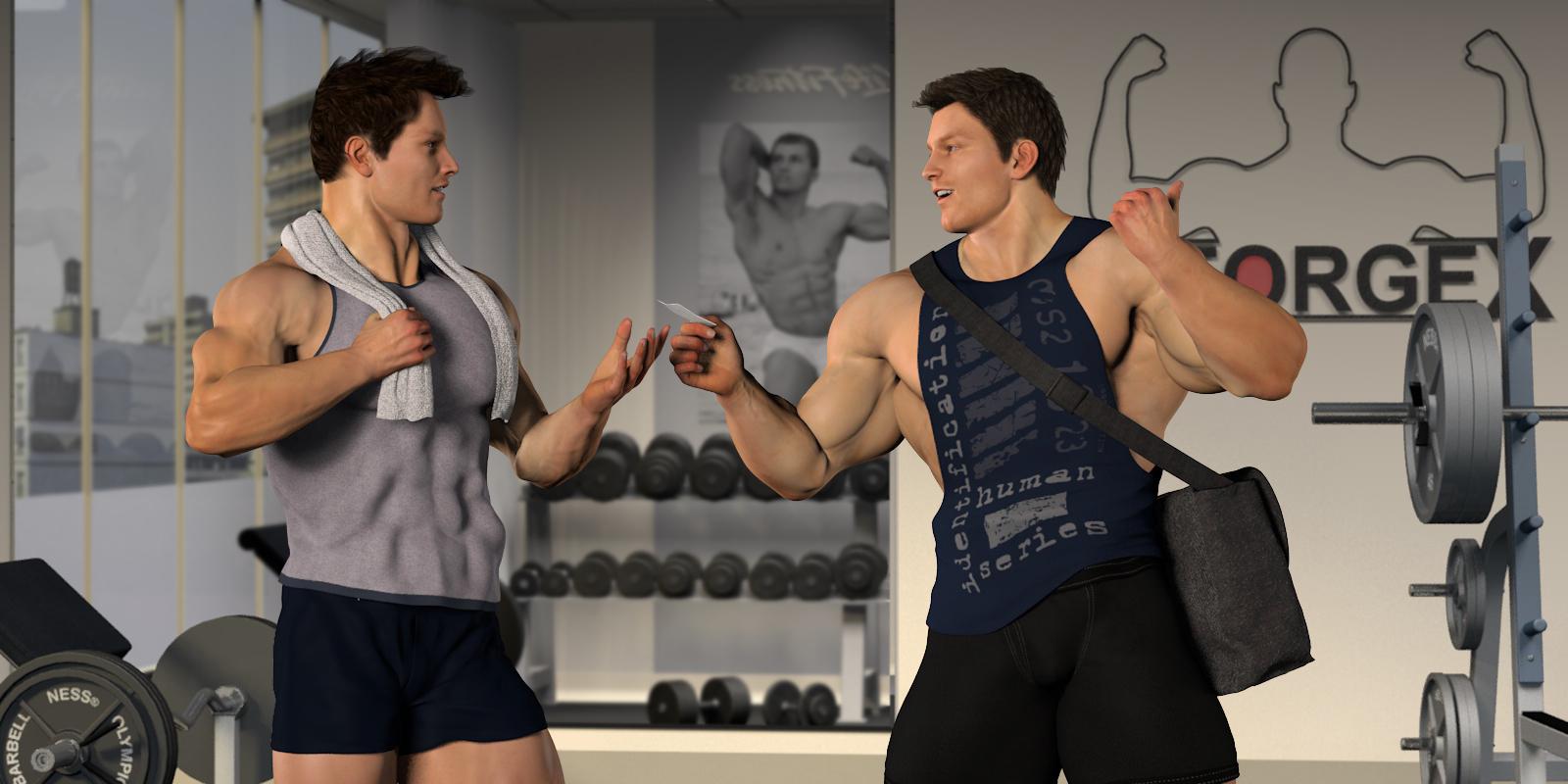 "See this guy, Mr Jones." said Johnny. "It's right next door from here and he actually owns this building as well. He's got a real cheap apartment available. In fact I live in the building complex too and the apartment is right across the courtyard from mine. Plus residents get to use the gym for free, which would be good for you."
"Thanks, I'll go over there now," Gavin said and headed off.
Gavin went to meet with Mr. Jones, still dressed in his tight gym top and shorts. He hadn't noticed the building before but it was quite big, and appeared to have been a hotel in the past. He walked in and he noted how modern and nice it looked inside, considering it was an old building from the 1920s. He also noticed some of the residents.
He thought the name of the building was quite appropriate as all he saw were young fit muscle guys like himself. He considered the popularity of the place with young men was due to the free gym membership. Gavin knocked on the door of apartment 40. The door opened and a man in his 50's answered. The guy had short grey hair, with an average looking round face and a beer belly. The man looked Gavin over and said "Hello, can I help you?" in a meek tone.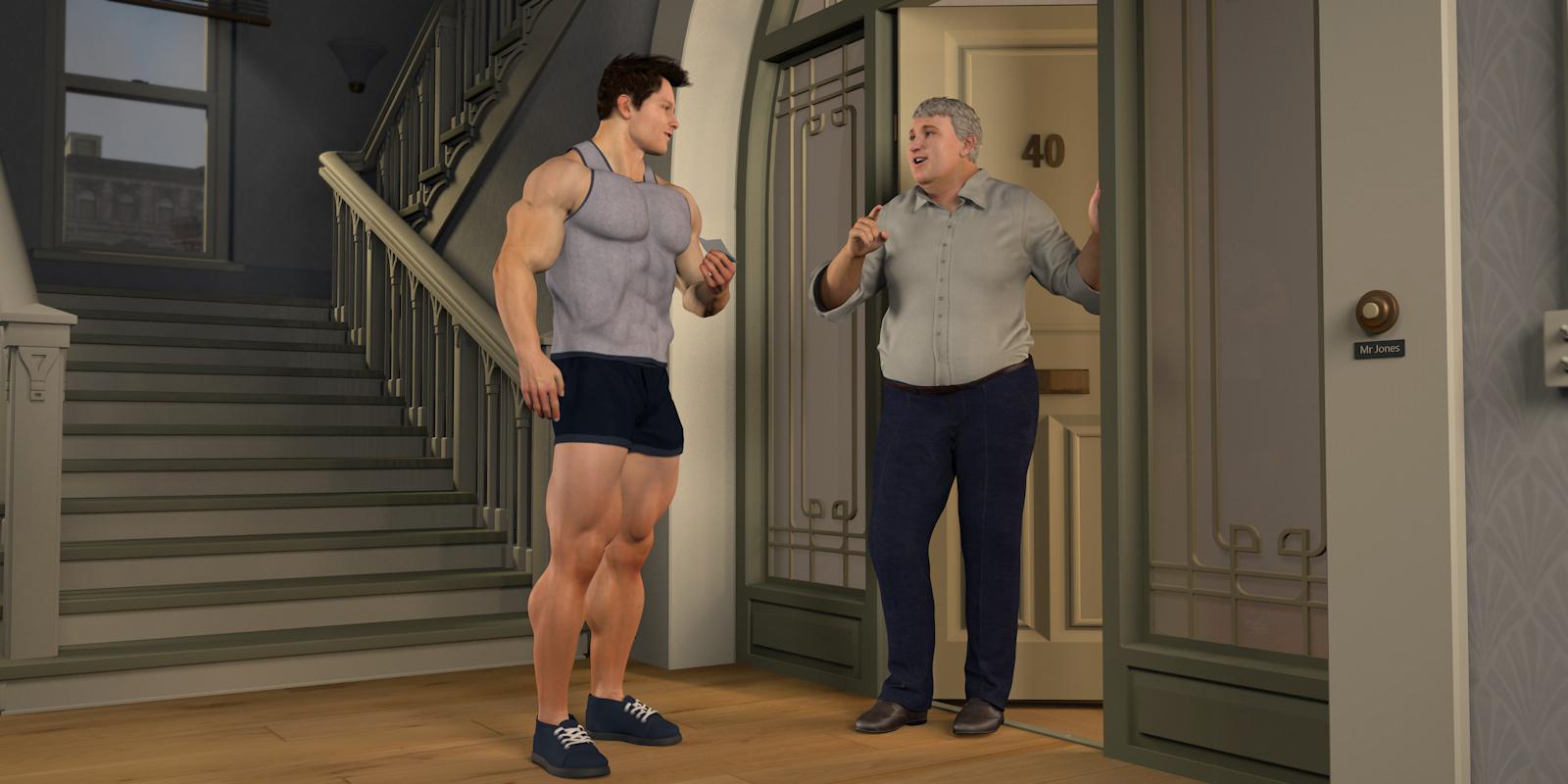 "Hi, Are you Mr Jones? Johnny who lives in the building, sent me, he's a friend. Like he told me that you had an apartment available?" said Gavin.
Mr Jones smiled and said "Ah yes, I do. If you like to come with me. It's only across the hall." Gavin followed the older man. The man opened the door of Apartment 41.
"Here it is, please take a look around." Mr Jones said.
Gavin entered and looked around. The apartment looked modern and was spacious. It was all fully furnished which he needed, It even came with a 50" Wide screen TV.
"Wow this place is lush, but I don't think I can afford this like." Gavin said.
"It's $500 a month." Mr Jones replied.
"$500? Man like that is cheap," Gavin was surprised by the price. His apartment hunting could only find small places that would have cost $1000. They were nowhere as lavish as this one. "Why is it like this cheap?"
"No real reason, I can afford to rent lower than the average. Besides if your a friend of Johnny
it's the least I can do," said Mr Jones. "Oh by the way your accent, where are you from, if you don't mind me asking?
"I am from Wales, in the UK." Gavin said.
"Ah you're a Welshmen, I don't think i met anyone from Wales before. So will you be taking the apartment? Said Mr Jones.
"Yes I will take it, when can I move in? Gavin asked.
"Whenever you want. I am so glad Johnny sent you up here. I mean I've been meaning to advertise but not got round to it." Mr Jones replied. Mr Jones held out his hand to shake on the agreement. Gavin obliged and gave him a firm handshake. Mr jones noticed, Gavin's muscle arm flexed and his bicep bulged as they shook hands.
"It'll be so good to have you here." said Mr Jones smiling.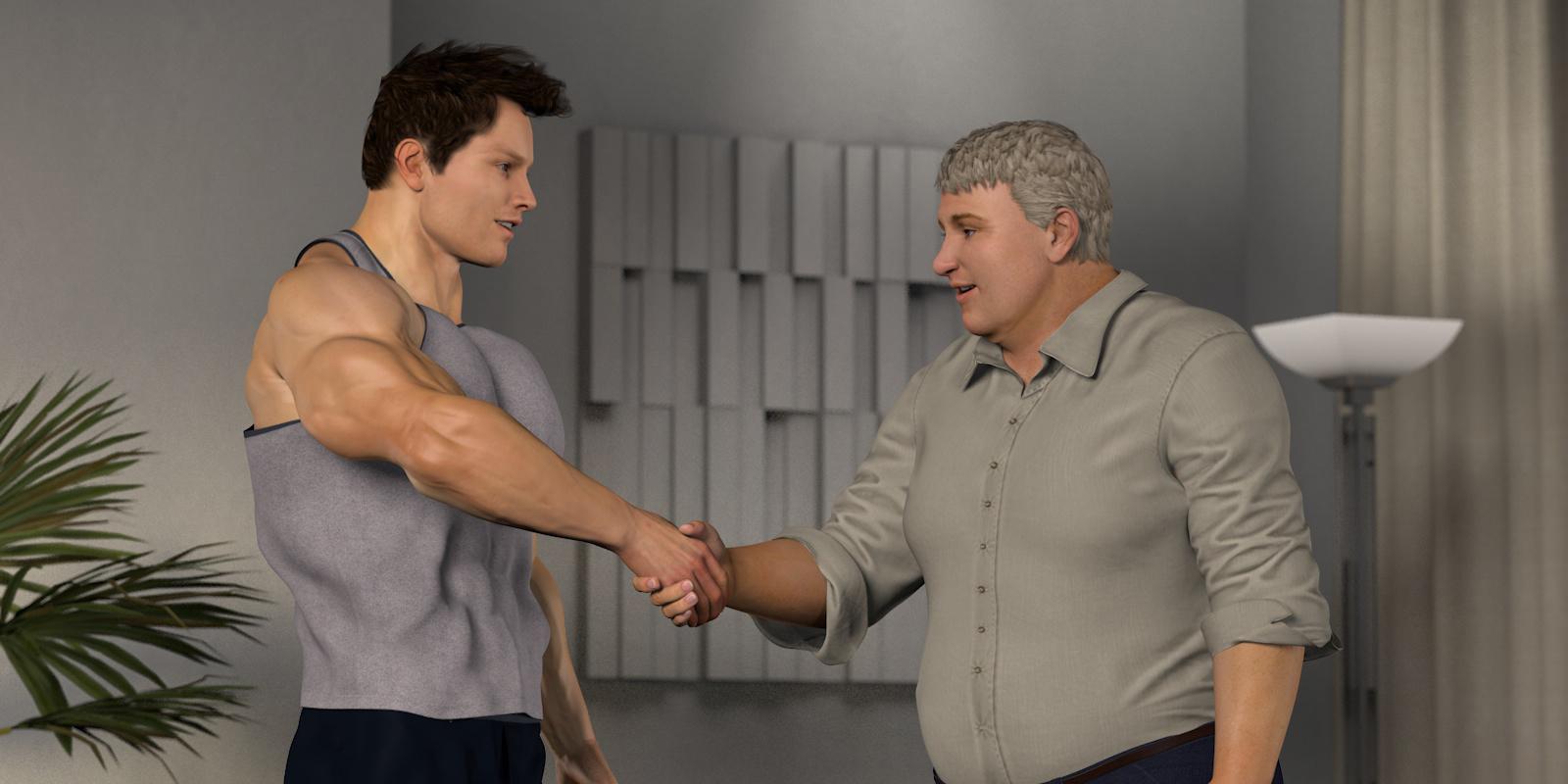 Gavin moved in the next few days and adjusted to his new surrounding. The muscled man liked how quick and easy it was for him to get back to his apartment building after his intense workouts in the gym. It was one of this favourite reasons living there.
As his gym was only feets away as it was near his apartment, he would head down ready to train and go back to his apartment to shower. Plus as the gym was free for residents, it saved him a lot of money. Johnny also provided Gavin with free supplements which he used.
One supplement was called Alpha B and it gave incredible results. As he didn't want to be as big and bulky as Johnny, Gavin chose to used the Alpha B lite which was a milder version of the regular Alpha B version.
As Mr Jones was only across the hall, Gavin would time to time bump into him. The older man would small talk with the fitness model and sometimes would ask Gavin to help him move stuff which he would happily obliged to.
"A strong fit lad like you would have no trouble with it." he would sometimes say. Gavin did not mind. To Gavin, Mr Jones felt like a harmless fatherly figure and was relaxed when around him. One evening after coming from the gym Gavin found Mr Jones waiting for him at his door.
"Oh hello my boy, I just wanted to give you this." he said.
"What is it?" Gavin asked.
"I think they're night supplements, Johnny left them with me to give to you." Mr Jones replied.
"Oh ok, thanks Mr Jones." Said Gavin as he took the supplements from the older man.
"So, you got much planned for tonight?" Mr Jones asked.
"No sir, I am just gonna take a shower and like rest." Gavin said.
"Oh am sure you must have worked hard in the gym, well I shall let you go." said mr Jones.
Gavin entered his apartment and began to take of his clothes revealing his hard sweaty muscular body. He peered out of this window and saw Johnny's apartment below. Even though it was still daylight, all the blinds had been put down.
Gavin headed to the bathroom and had a long shower. The muscle stud thoroughly washed his body soaping himself up and rubbing his smooth young muscled body with his hands. The built in mirror of the shower was handy as he could see all the definition in his body he was working on. Once he was done he wiped himself dry and headed to the bedroom. He picked up the supplements and took one. Feeling tired from training he headed to bed to rest.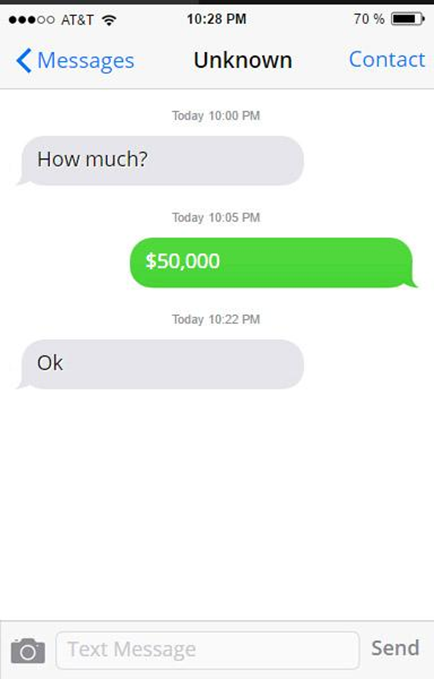 Incoming message.
"How much?"
Message sent
"$50,000."
Incoming message.
"Ok."
Next page