Adonis Village
Part 5 - Package delivered
By Ken Laben (Illustrated by Priapus of Milet)
Email:
Ken Laben
Previous page
Adonis Village
Chapter 5 - Package delivered
Mr Jones opened his post box and found a small package. He headed to his apartment and opened it . Inside was a blu ray disc and a letter which he read.
"Dear Mr Jones,
Thank you for your services. I have very much enjoyed my buy. Please find a movie of what I have been doing, for your personal enjoyment"
Mr Jones put the disc into his player and watched on his big wide screen TV.
It was a homemade movie; on it he saw a familiar face. Gavin was in a jockstrap posing and flexing his muscle body in front of the camera. Soon he was joined in by a naked fat man wearing a half mask, the man molested Gavin as he flexed. The older man's stubby hands ran over the muscle studs biceps, abs and pecs. One hand even slipped into the jock strap to feel Martin's cock.
The man then grabbed Gavin's chin and pulled it towards his masked round face and moved in to kiss Martin, the muscle stud offered no resistance and soon the man's tongue was in Martin's mouth.
Mr Jones smiled and sat on the settee playing with himself as he watched the buyer of Gavin have his way with the fitness model.
Mr Jones thought back to the time he first met Gavin at his door a month ago, He was not like his usual buff muscle bodybuilder conquests. He was slimmer but he could tell he worked out and he had such a handsome manly face he was intrigued by him and his Welsh accent.
When he did see his buff shredded body naked in the shower the first time behind the one way shower mirror he licked his lips in anticipation. Unbeknown to Gavin the older man was videoing him as he showered. The perverted old man was so turned on looking at Gavin's hard wet muscled body, that he jacked off right in front of him and came on the mirror.
Mr Jones ran an unusual business, while it was true he was the owner of the Adonis Village building and land lord. His real business was far shadier, with a help of an international cartel he ran a sex trafficking operation with a niche market of straight muscle men.
He would lure these muscle men into living at the apartments with cheap rent and with the help of other residents like Johnny
Johnny and a select few muscle men where permanent muscle sex slaves who lived at Adonis Village, there role there was to satisfy the needs of gay men in the city who wanted straight muscle men and who would pay for the privilege of fucking them. Their other role was to entice other straight muscle men to live there.
Johnny was currently Mr Jones's favourite slave, his normal persona was so cocky and masculine and the old man loved his body as it was so big and hard from all that training he did. Many a time he would tell him to come to his apartment, there he would suck on Johnny's nubs on his big pecs in bed while the muscle stud moaned incessantly and make the cocky muscled bodybuilder suck on his dick and ride him all night long. He loved how he looked impaled on his dick. He was also good at bringing in fresh meat like Gavin.
Gavin was just one of many muscular men to come to live at Adonis Village. Mr Jones had done his normal routine of recording the latest muscleman naked for viewing on the private sales list. He was quite surprised that he got a response so quick from an rich businessman. Apparently he was already a fan of Gavin from seeing him in his athletic modelling photos and had to have him.
The supplement Alpha B given to the muscle men was the key component to the success of enslaving these muscle men. Once taken it would increase their performance in the gym but it would also make them submissive and susceptible to new ideas.
Mr Jones recalled the first night he entered Gavin's apartment via the secret passageway, He saw Gavin in his bed sleeping, the older man got naked and got into bed with the young muscled hunk. He spooned up to the hard muscular body Gavin had worked on and begin to molest it. He ran his hard dick between Gavin's ass cheeks, he so wanted to plunge it into him but it was too soon for that. He made do instead on sucking on Gavin's muscular pecs and cumming on top of him. Leaving the muscle stud covered in his cum. Gavin was none the wiser due to the night supplement he took and just thought he had a wet dream. The night supplement was a particular strong version of Alpha B. It would make the taker very relaxed and drugged like and make them sleep through the night. This happened over many nights.
Occasionally Gavin would stir from his sleep while Mr Jones was with him however thanks to the Alpha B supplement he was too drugged to realise what was going on. Mr Jones would tell him it was just a dream and to go to sleep which the muscleman did.
Mr Jones thought about the opportunity he had to speed up the enslavement of Gavin when he offered the sports massage. The music he made him listen to on the headset was full of subliminal messaging, telling Gavin it was good to submit to men, for him to serve them in any way, to wear only his underwear to show off his muscle body to men. The massage with the combination of the supplement he took and the music was enough to make Gavin relaxed enough for the sexual advance of Mr Jones where he made the muscle stud jack him off and made out with him. Gavin passed out not to soon after cumming and Mr Jones put him back on his front with the towel on his backside and put back on his clothes as to show that none of it happened. At this point Gavin's mind would have started to get confused and it would remember a lot of what had happened but still think he was dreaming.
Mr Jones knew by this point that Gavin would be soon ready, so he had called Johnny to leave his blinds open so that Gavin would witness the bodybuilder getting fucked by one of his clients. This would indeed tip him over and Mr Jones smiled as he saw Gavin via another one way mirror play with himself as he watch Johnny being fucked.
He knew that Gavin was now ready and gotten into his apartment and gotten naked on his bed waiting for him as he showered. Mr Jones was right as Gavin gave no resistance to the intrusion and was eager to serve the older man sexual needs.
After that night Mr Jones trained the muscle fitness model into a submissive muscle sex slave by fucking the muscle stud every night and making him improve his oral sex skills. Soon he was ready to be delivered to the rich business man.
He recalled the last night he had with Gavin before he was sent off to his new master. He had also invited Johnny and he enjoyed the company of the two muscled studs. All naked in the older man's apartment he had both of the muscle studs stand next to each other so he could admired their hard smooth bodies at the same time. On his left Johnny, the massive muscled bull with his large boulder like muscles while on this right Gavin, with his slimmer yet well muscled shredded athletic body. Both different yet equally as sexy to Mr Jones.
He stood in front of them and ran his hands over their muscled bodies, as did this he made out with both hunks, exploring one of the young stud's mouth then moving to the other. Both studs were excellent kissers and eager to please the older man.
After making out, Mr Jones then ordered the hunks to kneel looking at each other, they did as they were told and Mr Jones stood at their side with his hard dick pointing out between their pecs. He told them to push their pecs together and he gasped as he felt his dick being enclosed by the warm firm hard pecs of both men, he then began a fucking motion. Both men watched as Mr Jones's hard dick slid between their hard pecs. After enjoying his double pec fuck he made both of them service his dick at the same time. He looked down and enjoyed the sight of both masculine men on his cock.
After that he made Johnny and Gavin sixty nine each other and offered a reward for the one that made the other cum first. Both muscle men wanted to win the reward from Mr Jones, so they vigorously sucked each other off to the enjoyment of Mr Jones. He loved how each of the manly men tried sucking hard on each others cock trying to make each other come.
It was a close call but Gavin was the winner as Johnny shot into the Welshman's mouth. His reward was to be the one in the middle of the sex train with Mr Jones fucking him while he fucked Johnny. Gavin moaned loudly in pleasure at the double sensation as he thrusted into Johnny's muscled arse while also being impaled on Mr Jones's cock.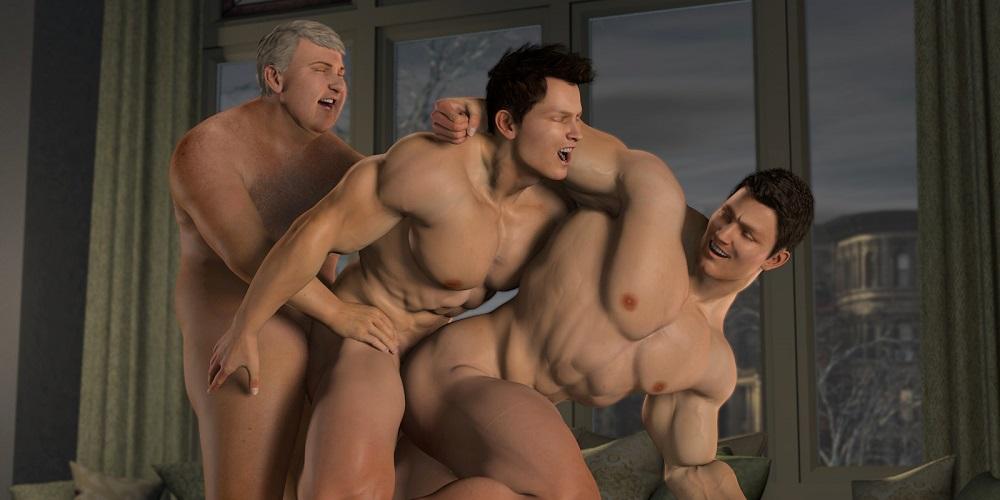 The day after Mr Jones instructed Gavin to move into the address given to him and to serve and obey his new master. The young muscle stud complied and ended up at his buyer's mansion. There he lived to serve his every desire. To the outside world he had just moved in with his new manager as he continued his modelling career and he even did some risqué shoots at his owner's insistence.
As he continued to watch the movie, Mr Jones noted the room Gavin was in, it looked like a bedroom and on the walls were posters of Gavin's modelling shoots. The business man loved the fact the world admired his muscle stud and he was his to fuck and this was his perverse way of saying it.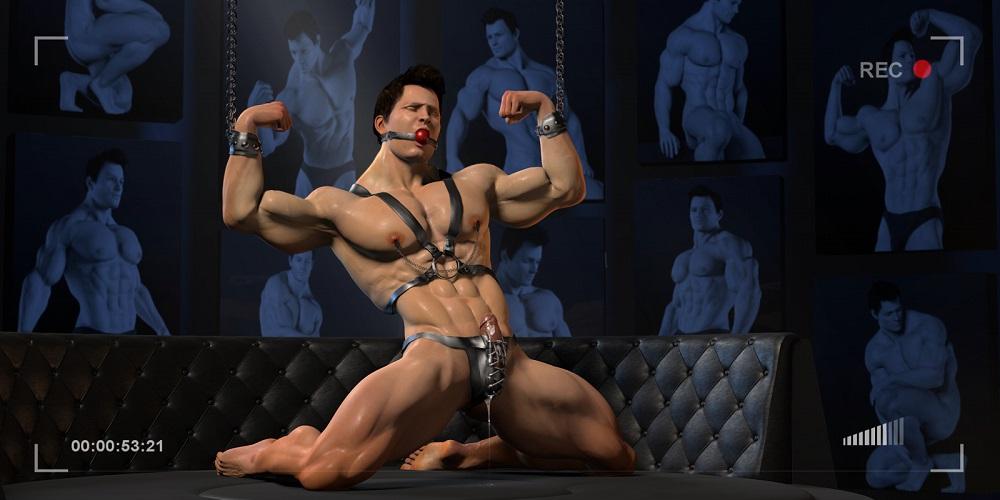 Mr Jones enjoyed watching the 3 hour movie. The fat business man put Gavin through his paces making him do many perverted sexual acts. One scene had Gavin taking dildos up his ass, another was him chained up with a ball gag in his mouth and sporting nipple clamps on his muscular chest. Mr Jones particularly liked the scene of them in which they role-played with Gavin as a Roman gladiator getting fucked by his Roman master.
Gavin stood in a short gladiator styles clothes while his master, wearing a toga inspected his hard, tanned and oiled body. The man moved behind Gavin and moved a hand under the short tunic and fingered Gavin's hole. Then the master bent the "gladiator" over and fucked him on all fours.
The final shot of the movie was a close up of Gavin's handsome face looking up to the camera, he had his mouth opened as the older man aimed his dick towards it. The man groaned and shot his load into Gavin's mouth. "Take it all Gavin, don't waste a drop." said the man in the film. He tried but dribbled a bit.
"So What do you have to say to Mr Jones, Gavin?" Said the older man.
Gavin looked up to the camera, his bottom lip covered and dribbling in cum, eyes glazed over. The man's still erect dick slapping on the side of his left cheek.
"Thank you for selling me to my master." he said in his welsh accent although in a monotonous tone.
"Good boy Gavin." said the man. The video faded to black ending the film.
A few seconds later a knock came on the door. Mr Jones answered and was pleasantly surprised with the brown haired bearded muscled Adonis standing there. The Adonis wore a stringer that proudly displayed his big smooth pecs and the large nipples.
"Hello, can I help you?" Said Mr Jones.
"Mr Jones? Hi my name is Dragos. Johnny told me to come and see you, as I am looking for a place to stay." said the muscled bodybuilder.Mr Jones smiled.